Finished Carl's House scale model from Disney Pixar "Up"

Here you have few pictures of my finished scale model of Carl's little flying victorian house from new Disney Pixar animation Up.


Here you have the most recent addition to my model collection. This is N-scale scratch-built model of flying house from the new Pixar movie "Up". I haven't seen the movie yet (still not open in cinemas in Ireland) but I loved the trailer and this colorful piece of architecture. I needed to have it in real 3d… The design was simple, I based on pictures, movies from youtube and cut out toy from official Disney Pixar website. I started last Friday, all parts were ready on Saturday. It was going to be weekend project. So far its two weekends project.

Here is the house painted with base colors. They will be refined with different techniques, dry-brushing and washes. The photo below shows the stage before painting. You can see how many elements needs to be assembled together to create this little model.
I prepared all parts myself and used my laser cutter to cut them all from paper. The siding and roof tiles are all dimensional, pasted painstakingly line by line. For painting, I used Valleyo acrylic paints, my favorite brand so far.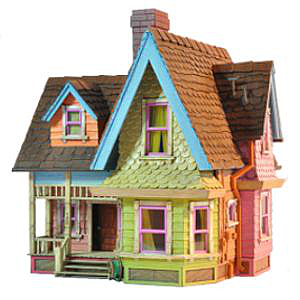 This model became very popular on internet, bringing lots of people to my after movie was released. That led me to building the bigger version in scale 1:48, popular in dollhouse world. You can read more about this project, just click the image.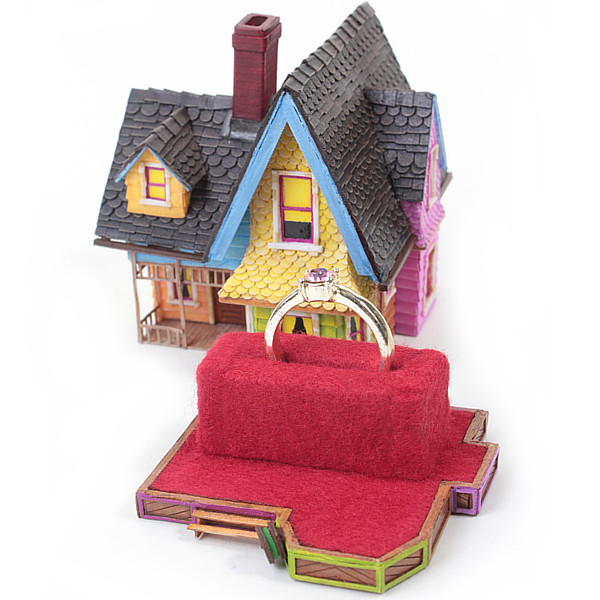 Later I was asked to recreate the tiny version with hidden compartment where the engagement ring  could be placed. This was the first time I discovered engagement ring boxes category. More about this project, when you click the photo.
I also started sculpting and customizing vinyl toys. The "Up" theme was always on my mind, that lead to creation of this little figures of young Carl and Ellie. Check them out, maybe you could create one yourself.
11 responses to "Finished Carl's House scale model from Disney Pixar "Up""