BB-8 droid remote controlled toy

Here is the first prototype of BB-8 droid remote controlled toy. It was a test piece for bigger project I am working on with my friend Mike Hibbett, an electronic wizard. Here is his website where you can get his kickstarted microcontrollers one of them so tiny, that you can embed it just anywhere for example in wearable and create internet of things . He knows everything about electronics and programming and likes to share his knowledge in "Everyday Practical Electronics" magazine.
We are planning to construct and show full scale BB8 on this years Dublinmaker event on 25th July 2015 in Dublin Ireland. Makers interested in sharing your work there, open submission is until May 25th. We have lots of work to do, many sleepless nights and problems to solve and parts to break, but we dream big 🙂 but for now, here is tiny preview on Youtube.

At the beginning when researching I had an idea to get Sphero and customize it but I was afraid to destroy 130$ good working product for an experiment with small chance for success. You can get yours here on amazon by clicking on photo below. It is already quite advanced robot  toy designed by Orbotix, capable of rolling around, and controlled by a smartphone or tablet. There is many cool applications and games coming for this platform especially with Disney accelerator backing of up to 120000$ and possible official BB-8 toy.

 My budget is much smaller so I started from scratch using cheap 10cm diameter plastic ball, one styrofoam ball, 2 servo motors, one converted to continuous rotation and 2 micro-controllers with cheap 2.4gh link through nRF24Lo1 boards sticked to interior 3d printed on my home made reprap.


Here is a set of blueprints I prepared based on photos of the real prop appearing on internet recently. I notices that details of working animatronic version of BB8 are less sharp and groves are not that deep as on the prop displayed next to Storm Troopers. It is probably to avoid edges on which dome could rapidly stop and fell of magnetic device hidden inside main ball. That is my guess, don't quote me on that 😉 Feel free to use this plans for your own project of customized sphero, cake, or anything you are building there. That should save you some time trying to figure out all the shapes of panels details. Please, don't forget to link back to this blog post if you find them useful. If you are committing to build full scale version of this robot, use it as a start but check all the details on photos. I will be refining and finding my mistakes in this plans when I progress with my own build and with new reference photos coming and don't want to be responsible for hundreds of hours of your lost time when on next Star Wars convention people will be picking them 😉
Sphero and Disney released their toy on 5th of September. The suggested price was 150USD but it is already sold out in many places and they appeared on Amazon at higher price at some point but now it is restocked and you can buy it again. It is already marked no.1 bestseller, I want one for Christmas.
If you prefer not to spend that much, there is this little Funko model, it has nice details, I got one for myself, I am planning to repaint it with some weathering and extra details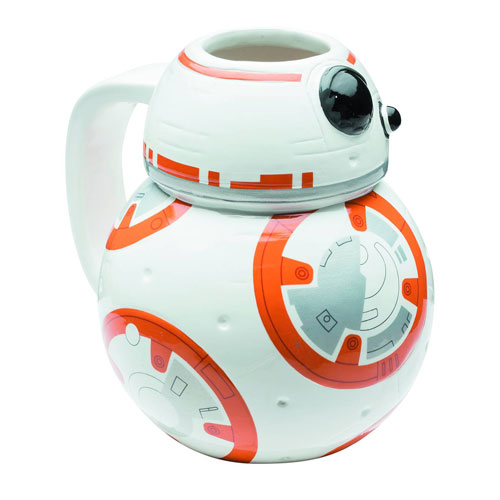 Or this mug for your coffee while you spend your nights building the full size droid.
One response to "BB-8 droid remote controlled toy"